NOTE: These characters are no longer in use and the project has been called off. I left this post for those who will or have read a few of my writing excerpts. 
I just wanted to clear up some possible confusion. In two different stories here I have a character named Sarek. Originally when my friend and I started writing, we had only the intent of writing one story. However, that all changed when the writing bug hit us and we decided to start another one the side.
Sarek is a chracter in which my friend Pathend had created for the world of The Wheel of Time. A book series by Robert Jordan.
( http://en.wikipedia.org/wiki/The_Wheel_of_Time)
In this setting Sarek is an assassin who is quite boyish and mischievous, and although an assassin, strives for life of himself and others. (obviously in the wrong business, eh?) Hes actually quite a goofy and lovable character and although he has his serious side, for the most part hes kind and gentle and (now) lives his life to ensure the safety of Lilith Kerrigan.
     Art Work© Daluna. Please do not use without permission!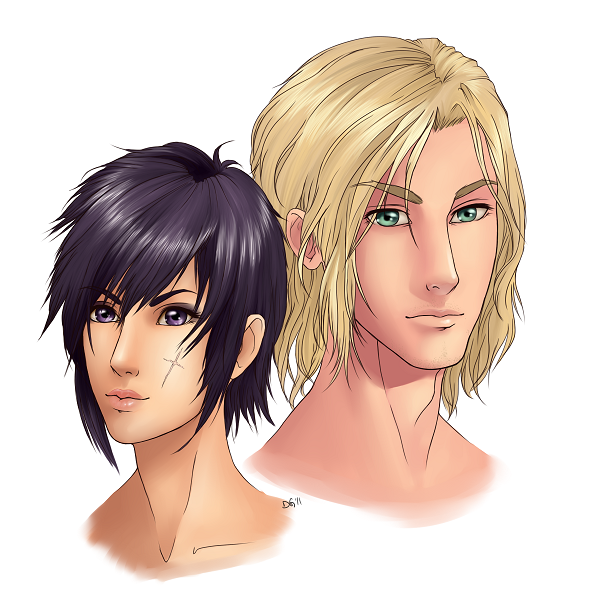 On the Right is the Sarek from Tear, a city within the book The Wheel of Time (To his left is my character Lilith Kerrigan) 
As for the Sarek in which I was first introduced in the Vana'diel RP, he was left orphaned along with his brother Magnus. At their young age, the two were separated. Magnus was taken and raised by a foster parent in the Republic of Bastok. Sarek, however, was taken by the Quadav beastmen and forever felt betrayal and disgust for his brother. (There was even a tinge of jealousy in his heart as well)  This Sarek (In teh beginning) Really was quite the dark character, wanting nothing but revenge. He would go as far to take his brothers love in a time in which she lost her memory and use her to get to get revenge on his brother, Magnus.
Sarek as he appears in the Vana'diel world of Final Fantasy XI
Anyway I hope that clears things up a bit for those of you who have read through a few of my posts. ^^