A little back story I wrote up for Rughadjeen and Sachiel. Nothing too special but I hope you like it. I started this months ago but never finished and now I have. Enjoy!
Rughadjeen, Gadalar, other names and monsters are  ©Square Enix
Sachiel  ©Me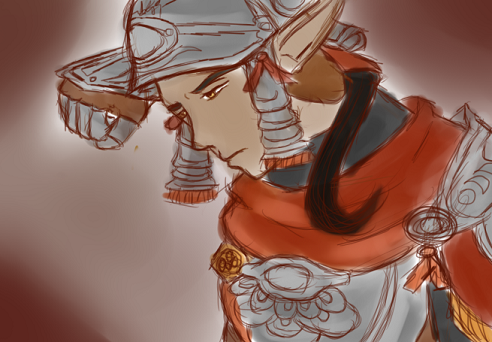 Heavens Not Enough
     The heavy mist of Arrapago Reef sat heavy on the air as two armor clad figures walked through one of the most dangerous and despised Beastmen strong hold in all of the Aht Urghan Empire. They had arrived just before the early morning light had tried to peer through the thick mist of the reef. It was always hard to tell when night or day had befallen such a dreadful place. As the two figures walked along the small shores and coves, they stopped briefly as they approached a small group of lamia. The shorter of the two, a brown haired hume with piercing blue eyes turned to his taller Elvaan companion and spoke quietly under his breath. "Remind me why we are here again?" he spat under his breath, sapphire eyes peered at their Elvaan companion. As he spat those words in irritation, he proceeded to reach for his scythe ready for a heated battle; impatient even. Just as he was about to arm himself the Elvaan raised a hand out in front of the hume, silent at first, and then he turned to speak as his amber eyes met with the hume's brilliant blues.
 "Gadalar." he whispered quietly under his breath "I told you. This is a Reconnaissance mission. We're here to gather information. We are NOT here to fight, my friend. Lay down your weapon…for now." Gadalar growled under his breath as he scowled at the Elvaan "Always the cool one. Eh, Rughadjeen.? You know I enjoy ripping the Beastmen a new one whenever I have the chance.  Why did you bring me on such a ridiculous mission?' Gadalar Scoffed as he reluctantly brought his hands back down to his sides. His companion Rughadjeen smiled briefly as he looked over at the infuriated Hume. "You may be hot blooded my friend but I know you are no fool. Think about it a moment. If we we're to get in a bind you would be able to escape us form this god forsaken place. You are the ONLY one who could do so. So please, just try and bear with me." The Elvaans face turned to that of a serious one as he tried to remind Gadalar of the dire situation. As much as the Flameserpent General hated to admit it, his friend was right. As always.  Gadalar proceeded with rolling his eye "Yeah, you have a point there. I will hold back for now but if one of these slimy bastards dare lay a hand on either of us I make my move. Is that clear?" A wide and cynical smile spread across Gadalar's face as he spoke. Rughadjeen replied as he lowered his ears and closed his eyes with a sigh "Yes, of course, of course" His brow twitched only slightly until he regained his composure from his feisty friend "At any rate it looks like they've moved. Let us continue"
The two continued to push through the dense fog as the smell of mildew and death filled their senses. At one point they had come across what looked like a pile of corpses. Even the Flameserpent himself had almost gagged at the site. Rughadjeen furrowed his brow but kept himself in check as he motioned Gadalar to continue onward until they finally reached the prisoner block of the area. As Rughadjeen peaks his head around the corner he sees that only a single Lamia guarded the room. He quietly motioned for Gadalar to take his post as he discreetly made his way into the room behind some cargo. Although the Skyserpent General seemed calm, his heart raced fiercely in his chest. Even the bravest get scared. There was no room for mistakes here. And if they did he'd hate to see the outcome Even though Gadalar was here to back him up, as soon as the first drop of blood is drawn he knew a swarm of those beasts would come for them and that wouldn't leave them much time.
 Lost in thought he suddenly perked his ears up slightly as he heard chatting coming from the cells and in the far off distance followed by the cry of a woman. Rughadjeen glanced quickly over to Gadalar. So he had heard it too. As the brunette nodded, he too, quickly jumped into the room and kneeled next to Rughadjeen. "Something's not right here." The Flameserpent said as he glared into the dark room off to their right and back to his friend.
 Rughadjeen looked over the cargo and to the cells in front of him. Only a single prisoner lay there. It was the Auction House owner of Al Zahbi. That poor bastard was always getting himself caught here.  The Elvaan nodded at Gadalar and moved his head closer to the Hume "I agree my friend. I am fairly sure there was only this jail block and no other in the area. This is unusual." Rughadjeen's eyes looked around quickly scanning the area.  Another scream came forward followed by what sounded like the rattling of shackles, then followed by the slamming of a heavy iron gate. Rughadjeen's eyes narrowed as he heard this again. Gadalar jumped as if to run over to the dark room ahead but Rughadjeen stopped him immediately "You will stay here. Understand?" Rughadjeen looked over at his friend his golden eyes filled with that serious look he showed in the midst of battle "If I am not back in 10 minutes you will proceed out of here with the prisoner. Do you understand me?" Gadalar fussed back at him, his hand raised at his Elvaan friend. Sapphire eyes a lit with a fiery passion and concern for one of his only friends, Gadalar spoke "Impossible! You may be the head of the Serpent generals but you are not invincible. I am going with you, you buffoon!" Rughadjeen quickly glared down at Gadalar as he stood before him and grabbed his wrist sternly. "This is not the time for this Gadalar." His gold eyes could have pierced right through Flameserpent's soul. Gadalar looked up at him in shock. Something was wrong here. And it wasn't just the sound coming from the dark room ahead. Something odd was happening with Rughadjeen. Alas, though, Gadalar knew better than to go against the mighty Paladin. Instead he glanced at him with a scowl of concern and backed down. Rughadjeen continued once more "Is that understood?" he repeated. The Hume nodded "Yes sir…" as Gadalar trailed off Rughadjeen quickly sprinted off into the next room and disappeared into the darkness.
When Rughadjeen reached his destination he found himself in what looked like a cellar or sorts. There were several shelves and rations and crates that surrounded him. How odd. He thought to himself. As he continued on he suddenly found himself stumbling upon a dead corpse. As he caught his fall, he looked down at the poor soul. Its cloths were in shreds and although it was only a skeleton its body looked like it had died in agony. He quietly leaned down as he inspected the corpse and he came across a medallion that still hung around the neck and inside its ribcage. The Elvaan reached within the ribcage and grabbed the medallion. He swiftly dusted it off.  It wad definitely made with pure imperial silver. As he turned it over to look at the front design his eyes widened. The sign of the serpent. "This is….!" He scanned over it again. Two, three, four times. He had to be sure. There was no doubt about it. This was the symbol of the academy from several  years ago. Back around the time that he had been enrolled. Around that time that the beastmen had… anger filled him momentarily but he quelled it. Brushing the horrible memory aside he quickly slid the medallion in his pocket and lowered his eyes at the corpse below, speaking a quiet prayer.
Rughadjeen moved on until he approached the next area. He was drawn back by what he saw. It was a living quarters. More like a cell really. As he continued onward upon the damp stone floor, he looked to the walls lit by torches. It was then that he came across a painting. Removing a single torch from the way he lifted it toward the painting to get a better look. His eyes scanned it quickly. It was scenery form Al Zahbi. More importantly, somewhere special that he used to take HER. Even the style of the work, it seemed so familiar to him. It looked like hers. His blood began to boil again as he thought on the past. Things that he had tried so hard to forget from that day were flowing back into him. No, you mustn't be blinded by your rage. What is done is done and that is why you became a part of the imperial guard and a Serpent General. To keep this same event from ever happening again. Keep steady Rughadjeen.  He turned away from the picture his eyes full of sorrow.
When he delved deeper into what seemed to be a holding cell, he coughed as a putrid smell filled his nose. He covered his mouth with his left hand as he moved forward and came across the dark silhouettes of cell bars, a bed, and table. As he held the torch forward he saw the floor was stained with blood old and new; water and dirt. Perhaps that corpse sought refuge here. Perhaps a captive from the academy from long ago when the undead swarm had…
His fist clenched at his side as flashes of his past ran across his memories: Burning buildings, corpses of his friends, teachers…his mother. All of them. Many had been killed that day but there were also several who had been taken captive. Several of which were his fellow comrades at the academy. His eyes took on a forlorn look as if he had been thinking on someone specifically. Shaking his head of it, he pressed on.  As he looked across the room, blood was spattered everywhere and corpses were sprawled all over. Were they servants? Or something else….? His stomach lurched at the thought of the other possibilities.
Between the stench of rotting flesh, blood, and mildew, (along with the thoughts of what may have been done to these people) he lurched over and gagged briefly in disgust. But then he heard something whimpering in the darkness. He steadied himself again and walked towards the sound. As his footsteps sloshed amongst the water puddles the whimpering increased.  Carefully, he held the torch forward and in there, in the small dismal corner of that putrid cell laid a female mithra huddling pitifully. As she shivered, her shackles rattled steadily.
 Seeing the young mithra in distress, Rughadjeen quickly sat the torch on a dry surface and began working on the iron gate of the cell. Finally breaking it open after a short time, he ran to the figure and fell to his knees. "Miss! Are you all right!?" His voice was quiet but clear as he spoke.  Prior to his approach to her, he was able to see that she had an odd skin color for a Mithra. Even her ears had an odd shape. Perhaps it was all the filth she was covered in that made her seem so? Or was there something more to it than that?
 With that thought quickly pushed aside he shook his head and touched the girl's body. It had been marred severely as it was covered in small cuts and gashes and her skin caked with dirt and blood. Her hair was knotted and gunked with mud and dirt. She smelled as if she hadn't bathed in months.  The Mithra flinched violently as he let his hand lay upon her shoulder. "Please just kill me! I don't deserve to live any longer. Put me out of my misery…."  Rughadjeen became very disturbed by the girls words. What had they done to her? He gently shook her shoulders. "Listen to me. I am here to take you back to the empire. Do not worry. I won't let any more harm come to you." As he did this the girl suddenly looked up at him her eyes clouded with what seemed like years of sorrow and abuse. At that moment Rughadjeen looked into those eyes.  He couldn't quit make them out completely but something seemed oddly familiar.
Moving over a few inches he let the light of the torch shine upon her skin. Then he saw them. Beautiful eyes the color of eastern jade. A color of eyes he hadn't seen in several years. He peered deeper at her image as all her features came into view. Her skin, although caked, was somewhat tan but not the tan of an Elshimo mithra. No this was something altogether different. As if she was form the east. Her ears were lower than most Mithra and more rounded. Running his hands through her matted hair, he held it up as if in desperate search for answers. Holding it gently up to the light, her hair (although caked in mud) was the color of pale blue opal. Glancing upon her face again he noticed her lack of face markings. This girl was only part Mithra. Then it struck home. He KNEW this girl. In fact, they were teenage friends. Comrades, classmates, and maybe, if things had been different..maybe even….
 But that thought was quickly quelled. There was no time for that. This is impossible. She had been taken years ago. I saw it with my very own eyes.  Because I couldn't…because I… He remembered her screaming for him as he tried to save her but he failed. She was always so stubborn trying to do more than she could handle. Trying to prove herself to him and the others. Biting his lower lip he remembered it well. He was twenty-two at the time and had just graduated out of the imperial academy and was barely a private. He swallowed hard as he looked down at the girl below him. How was it she still lived after he failed to save her. She was still youngling. She hadn't even graduated from the academy yet being at the age of nineteen. She'd have to be at least twenty-four by now. He often had nightmares of that night but as the years went on he had pushed all those memories aside and started a new life in the empire. There was no need to linger n the past. But when he saw this girl, who may be her, his good friend, and perhaps who would have one day had been his lover, his heart sank and anger burned deeply within him. An anger that no one had ever seen before from the Skyserpent General. Still, he kept his voice soft for her sake. "Sachiel?" he said to her questionably.
 Without a second thought or answer from her he quickly began working on the shackles until she was freed. Her wrists and ankles were bruised very badly from the tightly cuffed bronze. He said her name once more when she didn't answers. Maybe this wasn't her. But it had to be. No other woman in the city of Aht Urhgan, or the entire empire, had eyes the color of eastern jade like she did. This time the young mithra cocked her head at him, her face seemed to be lost in a daze. A good indication that she was probably malnourished and dehydrated. Rughadjeen's face took on a tinge of worry. Whether this girl was Sachiel or not he had to help her. And he would treat her as if she were, regardless of who she was. A citizen of the empire was just as important as an old friend. Or that's what he told himself anyway.
Quickly, he took the back of his cape and wrapped it around her to shelter her from the dampness "Do you remember who I am? Please tell me you remember who I am. ..Who I was?" She looked at him meekly. As she looked upon him her eyes seemed to strain as if she had been sleeping for eons. When she didn't answer, Rughadjeen's mind quickly began to wonder if there was anything else he could say to help her remember. Then he recalled the painting from earlier. He spoke up quietly, hopefulness in his voice "I saw your painting back there. Such beauty could not have been painted by just anyone. It would have had to be painted by one with a beautiful soul. A soul such as your own…".
These are the words he had spoken to her four years before her graduation. It was hard to believe such a strong and tenacious woman was able to paint something so calm and serene. So beautiful. He remembered once that he had tried to convince her to quit the academy and become an artisan instead. It wasn't that she couldn't fight. Anyone could learn to fight. And by Walahlra did she have the spirit for it but…he was scared. He didn't want to see her get hurt…
Shaking his head out of those thoughts, he looked down at her a smile upon his face. Slowly, the young mithra sat on his words. As weak as she was it took a moment for the man's words to process in her mind. When they did, she first wondered how he had known the painting was hers. Then, as she focused on his face further she realized he was an Elvaan. As she stared deep within his ambers eyes, they were aglow from the flame of the torch. Only one person had ever known about her art. Her eyes widened. "Rugh…….Rugh is that you?" She reached up to his face weakly rubbing her thumb across his cheek, leaving a dirt mark across it. But Rughadjeen didn't care. All he cared was that she knew who he was and that she was indeed his Sachiel.
 Rughadjeen's smile only widened further. He was almost in tears."Yes, that's right." He continue, his smile unwavering. "It's me, Rughadjeen. I'm going to get you out of here and back to the empire. I promise no more harm will come to you ." Rughadjeen brought her close to his chest, cradling her softly within his cape. His strong arms enveloping her with warmth and protection. In his arms he held a link to his past, someone he could relate to and protect. A family. Even if she didn't care for him like he did for her. And then at that moment, although he had the entire city of Aht Urghan to protect and keep safe, this girl suddenly meant more to him then the entire empire.  More than the other Generals. Hoisting himself up to his feet he looked around for a way out. Gadalar would have surely left by now so they were on their own. 
To his dismay though, a hiss came from behind him. He grimaced as he turned around and stared savagely at the beast. A lamia. Anger filled his eyes as he growled beneath his breath.  Never before had such anger and fire been raised within the acclaimed Skyserpent General.  "You will not harm this girl…!" The lamia only laughed at his retort. It only seemed to provoke her.
As he stared down upon the lamia now in front of him, he spat at her. Rughadjeen had never told anyone before but he despised the undead swarm the most for what they had done to his life. First they had taken his mother's life, his friends, his teachers… And now-now he had found what was left of his past with this girl and they wanted to take it away from him. Take away the girl in which he had fallen deeply in love with but was too childish to admit it to her. Afraid it would ruin their relationship as friends. He would not make the same mistake. He would not let them take her away from him ever again.
Keeping the girl hugged close to him, he fiercely kicked at the lamia, slamming it harshly against the iron bars of the cell. As he tried to run forward he was blocked by two more lamia. "Damn it all. They know we're here…." He "tsked" under his breath as he looked around for a way out. With the girl in his arms, there wasn't much he could do. But he refused to let her go. As the lamia back them both into a corner he held her tighter, shielding her from any oncoming attack. Rughadjeen then felt his back hit the wall. There was no other way forward.  He looked around trying desperately but there were no openings.
Then suddenly, as if a red winged angel had arrived, the room was a lit with bright and vibrant frames. The receding embers like feathers in the wind. The Lamias hissed as a figure jumped in front of the Elvaan. "Your ten minutes is up!"The figure sneered. It was none other than Gadalar. "Did you think I'd leave you alone? You can punish me with whatever you see fit when we return." He looked back at the girl in Rughadjeen's arms as the sound of wailing Lamia filled the air "Who's the girl?" he asked. But then the Elvaan did something Gadalar hadn't expected. With a snarl, his ears laid back and he looked to Gadalar. His tone was vicious. "Get us out of here now. Questions later!"  Gadalar jumped. It wasn't often that he heard Rughadjeen like this. (Nor was it often that anyone could make the Flameserpent cower in his own boots) In fact, not at all had Rughadjeen ever acted as such.
Gadalar didn't refuse his orders. Instead, he grimaced in shock as he began casting a spell to get them back to the capitol. As he continued to cast and the flames within the room continued to burn, he watched as Rughadjeen stood there, his eyes fixed on the (now sleeping) mithra. Had Rughadjeen known her? Then Rughadjeen looked up and into the flames; Amber eyes aglow with detest. As Gadalar looked closer within his fiend's eyes he saw a hint of exasperation there too and he actually began to worry for him. The Flameserpent knew Rughadjeen better than anyone in the entire empire and never before had he ever seen his friend so full of distress. Before he could ask himself anymore question though, the three of them were engulfed into darkness and gone from that godforsaken hole of rotting flesh.